Traditional haircare products have a longstanding history of not being vegan. For centuries (yes, we mean that literally), animal ingredients have been used in haircare as a means to clean, condition, and style hair. However, the haircare industry is experiencing a radical shift. Shoppers are finally calling on their favorite beauty brands to make the switch to vegan and cruelty-free ingredients. And just as we've seen in the food industry, a bit of innovation and more intentional ingredient sourcing has led to the development of vegan alternatives that perform exactly the same—if not better—than its animal-derived counterparts. No longer a niche or hard-to-find category, vegan haircare is extemely accessible. With a little research and planning, you can easily transform your entire hair routine with all cruelty-free and vegan haircare products.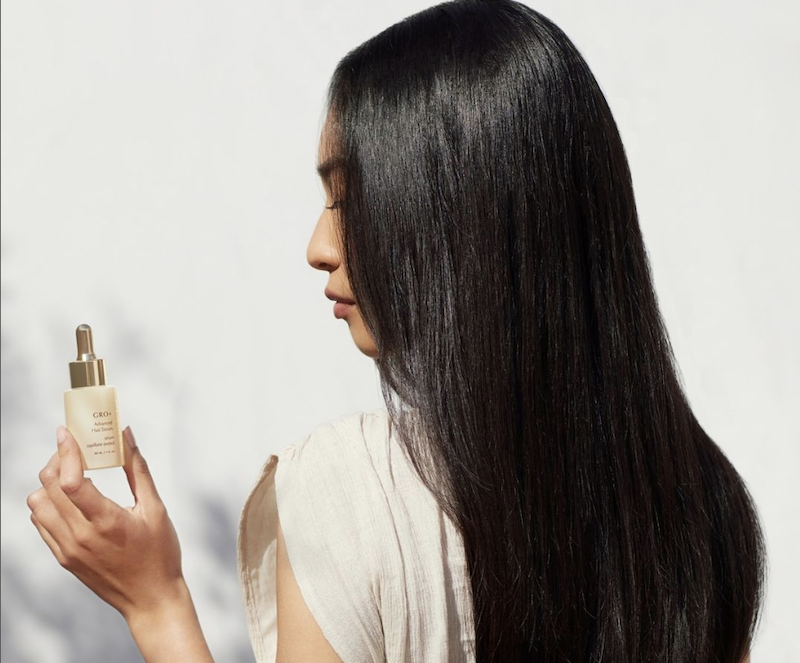 Vegamour
How to know if a beauty product is vegan
Knowing how to identify a vegan beauty product may initially pose some challenges; most consumers just aren't educated on the ingredients that make up these household items. Some of the most common and well-known animal-derived haircare ingredients include keratin, collagen, elastin, beeswax, silk, squalene, carmine, and lanolin. With that said, many animal byproducts often sneak into the ingredients lists disguised under different names. Carmine—a colorant made from the crushed shells of the cochineal insect—is also referred to as natural red 4, E120, and C.I. 75470. In some cases, ingredients can be found in both animals and plants. For example, stearic acid, known for its ability to emulsify products and soften hair, can be derived from either sheep stomach or plant fat.
Oftentimes products that are 100-percent vegan will state this directly on the packaging. Reputable certifications from organizations like Vegan.org and The Vegan Society may also be present on the packaging. If the packaging does not explicitly state its vegan status, it's best to either reach out to the company directly or avoid it altogether.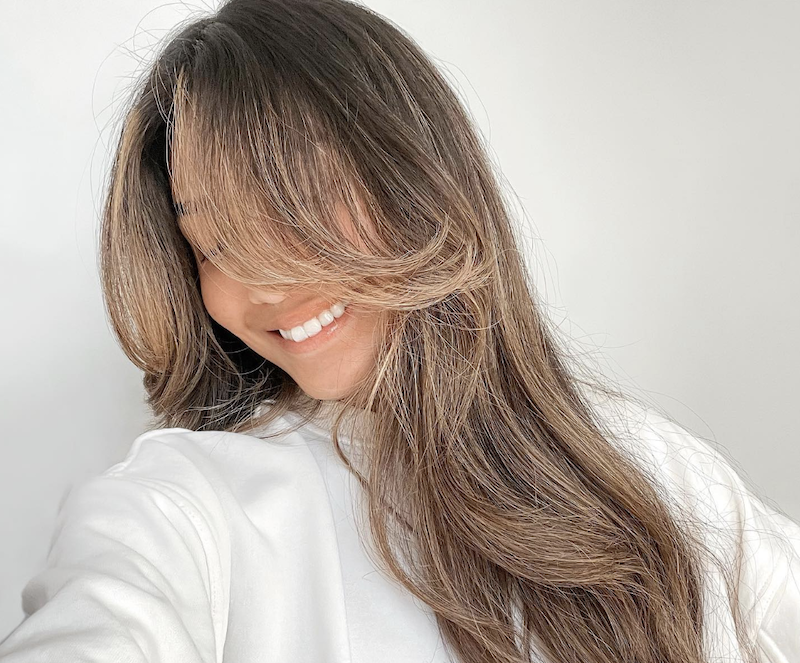 Noughy
What's the difference between vegan and cruelty-free haircare?
Animal testing continues to be an outdated practice when it comes to determining the safety of cosmetic products. And contrary to popular belief, vegan and cruelty-free are not synonymous. Just because a product is vegan does not guarantee that animals were not harmed in the creation of that product.
Animal testing can happen at virtually any stage of product development. Individual ingredients, vegan or not, can be tested on animals to see if it causes negative reactions. This can occur at any other stage of formulation as well, even after the products hit shelves. 
In some countries, cosmetic animal testing has been outlawed. The EU and Mexico are two nations that have banned this practice. Other countries, such as China and the entirety of the US, have fallen short in banning cosmetic animal testing. Thankfully, a handful of US states have passed legislation banning the sale of animal-tested products—a step forward to ending the inhumane and unnecessary practice for good.
Still, it's important to remember that a vegan product does not guarantee it is also cruelty-free. One way to verify a cruelty-free product is to scan the packaging for reputable cruelty-free certifications. Leaping Bunny and Choose Cruelty Free are the two most respectable organizations. PETA certifications, while popular, do not abide by as strict regulations as the latter two. Therefore, additional research may be necessary to ensure you are making the most ethical purchases possible.
Where to buy vegan haircare
These days, accessing and purchasing vegan and cruelty-free haircare is easier than ever. Vegan options can be found in nearly every retailer, whether that be in-stores or online. Popular retailers like Sephora and Ulta make finding vegan haircare products a breeze—just look for the vegan label. Other retailers, such as Target, Walmart, and CVS, also carry a wide selection of available options. Again, check those cruelty-free and vegan labels—they're easy to spot and don't require reading a long list of ingredients you can't identify or pronounce. 
The 15 best vegan and cruelty-free haircare brands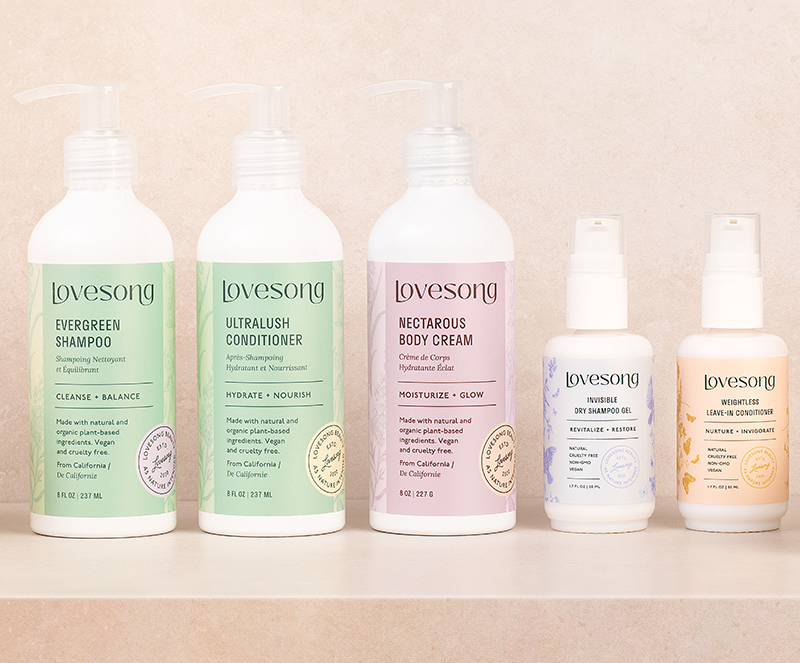 Lovesong Beauty
1  Lovesong Beauty
Introducing Lovesong Beauty, the newest vegan haircare line that's sure to clean and tame even the most unruly of locks. This Leaping Bunny certified company uses certified organic and clean ingredients in its formulas. With Lovesong Beauty, there's no need to compromise the planet either. Its eco-friendly products are also sustainably packaged with recyclable aluminum and glass bottles. Product boxes are made using recycled paper and all items are shipped in compostable shipping materials. They're a win for you, animals, and the planet. For a totally new and unique experience, try their signature dry shampoo gel.
FIND IT HERE 
Vegamour
2 Vegamour
Looking for a vegan hair growth product? Then Vegamour is the haircare company for you. This Leaping Bunny-certified company uses scientifically-backed technology to boost hair density and promote hair growth simultaneously. Using vegan bioactive ingredients, Vegamour products also help to reduce hair fallout while repairing damaged hair. Vegamour uses Karmatin, a vegan alternative to animal-derived keratin that's commonly found in many haircare products. Products include hair growth serums, shampoos, conditioners, vegan supplements, and even eyelash and eyebrow growth serums.
FIND IT HERE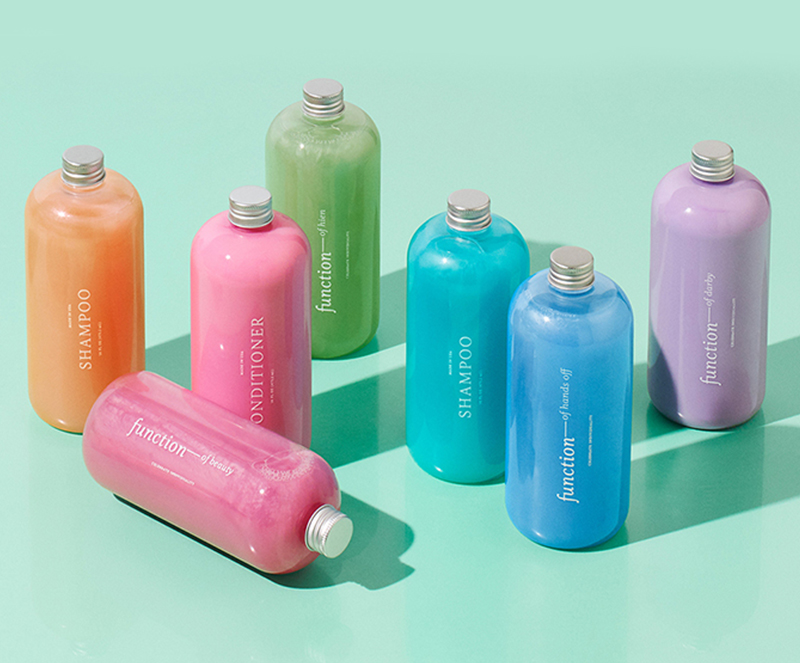 Function of Beauty
3 Function of Beauty
Everyone's hair is unique, so why not take a customized approach to your haircare routine? That's the approach of Function of Beauty. This cruelty-free and 100-percent vegan haircare company will create customized formulas based on your hair type and concerns. Not only are Function of Beauty products vegan, but they also follow the European Union standards for safe cosmetics which bans over 1,400 ingredients from their formulas. This PETA-certified company creates customized vegan formulas across a wide variety of products, from shampoos and conditioners to hair masks and serums. 
FIND IT HERE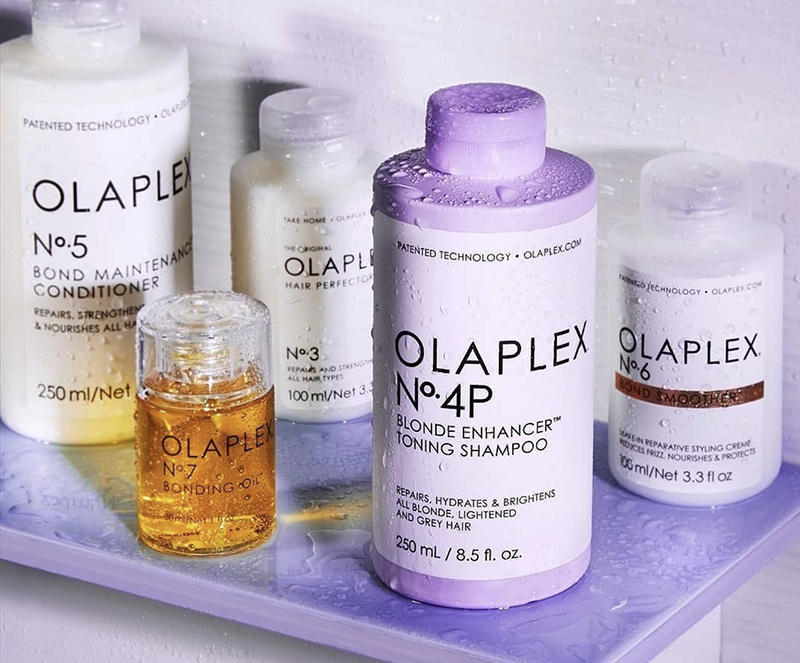 Olaplex
4 Olaplex
Olaplex is known for its affordable yet salon-quality hair products. This cruelty-free and vegan haircare company can repair even the most damaged of hair. Olaplex uses patent bond repairing technology to strengthen damaged hair on a molecular level. Most Olaplex products are now available for at-home use, with several salon-exclusive products reserved for pro stylists. If you've been on the hunt for vegan hair repair products, then Olaplex will be the demise of your split-end battles.
FIND IT HERE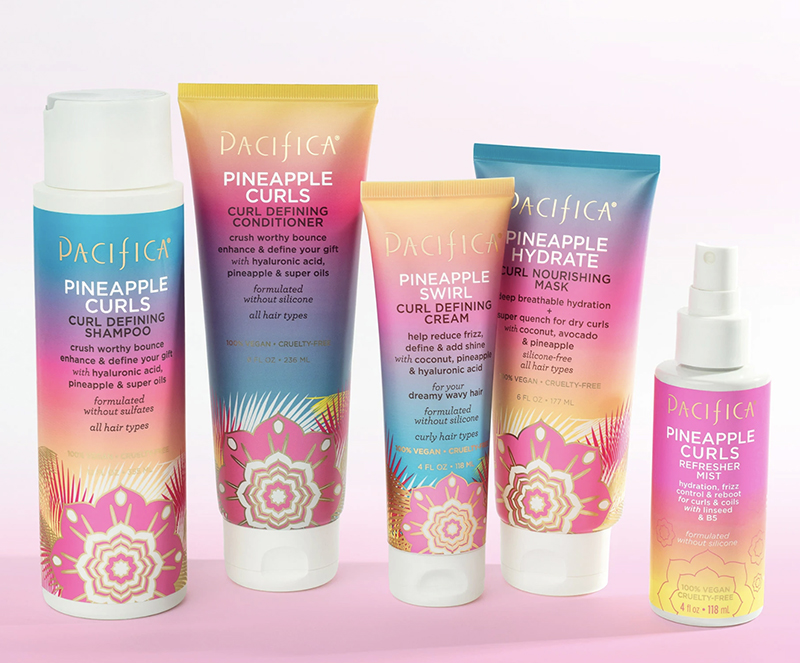 Pacifica
5 Pacifica
If you've spent any time browsing the beauty articles here on VegNews, you'll already be familiar with vegan-friendly beauty brand Pacifica. Beyond skincare and makeup, Pacifica also offers a wide selection of PETA-certified cruelty-free haircare products. Using innovative technology, this long-standing beauty company has developed effective vegan alternatives to animal-derived ingredients. Vegan alternatives to ingredients such as collagen, ceramides, and silk can be found across its various haircare and beauty products. Plus, all of the products smell fantastic.  
FIND IT HERE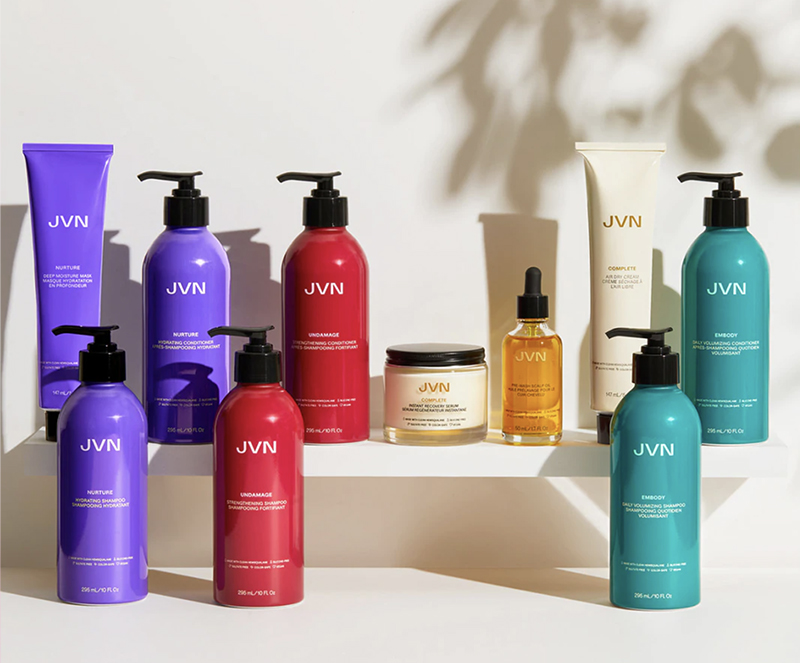 JVN
6 JVN
Well established in their own right, Queer Eye's Jonathon Van Ness recently launched their own vegan and Leaping Bunny-certified haircare brand, JVN. This inclusive celebrity beauty brand has taken the haircare industry to the next level. Amyris, the parent company of JVN, is known for its clean beauty ingredient innovations. For example, all JVN products contain a key patent ingredient—hemisqualane (a cruelty-free alternative to shark-derived squalene). JVN also has a focus on formula sustainability, ensuring all ingredients are ethically sourced without harming animals or vegetation. 
FIND IT HERE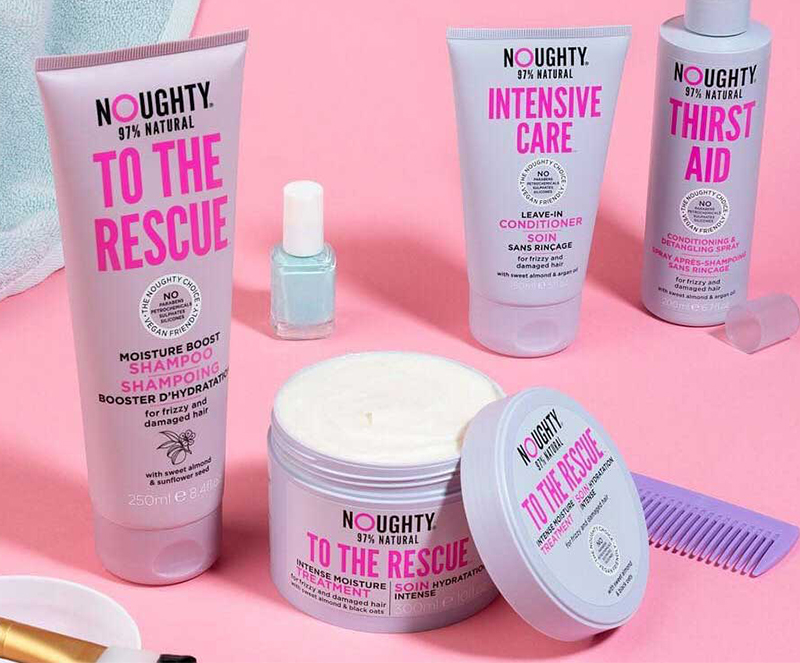 Noughy
7 Noughty
Affordable haircare that's also vegan? Sign us up! Noughty is a Vegan Society and Leaping Bunny-certified brand that's been making headlines. Noughty creates its formulas using 97-percent natural ingredients. Ingredients are sustainably sourced, often supporting third-world farm communities. Product packaging is made using both sugarcane bio-plastic and post-consumer recycled materials. Whether you've got coils, curls, or anything in between, Noughty will add a smooth touch and natural shine to your locks. 
FIND IT HERE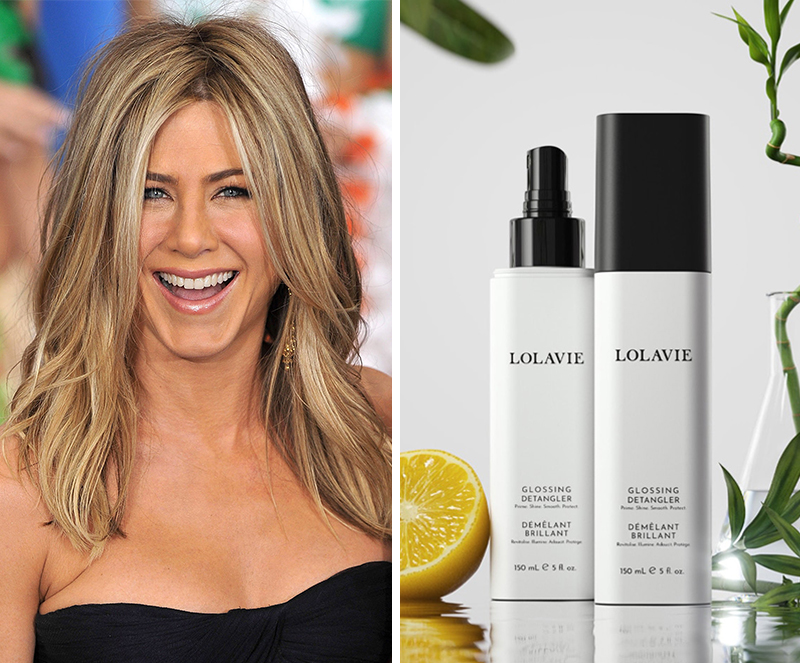 LolaVie
8 LolaVie
Jennifer Aniston is well-known for more than just her stellar acting abilities. Her beautiful tresses have made more hair trend lists than we can count, with her famed "Rachel Haircut" also making a recent revival. Now, Aniston has finally released her own vegan haircare line, LolaVie. LolaVie uses naturally-derived ingredients that are free from animal ingredients, parabens, phthalates, sulfates, silicones, and gluten. The Leaping Bunny-certified, celebrity beauty brand currently sells only two products—a Glossing Detangler and conditioning Perfecting Leave-In—but there are plans to expand this range in the near future. 
FIND IT HERE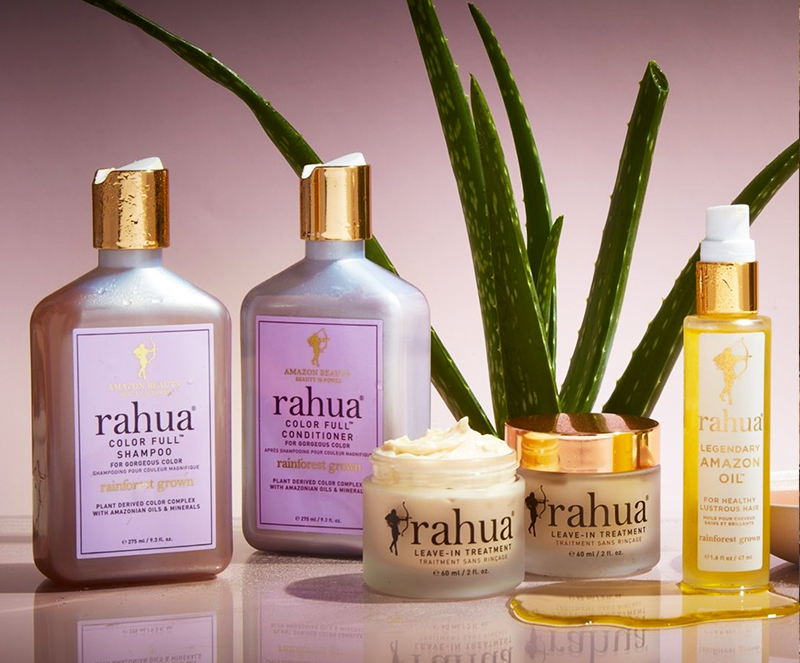 Rahua
9 Rahua
Vegan haircare brand Rahua was born from a centuries-long secret ingredient harvested in the Amazon rainforest: rahua oil. This hero ingredient is found in all Rahua products and continues to be ethically harvested in the Amazon by local tribes. Like others on this list, this beauty brand is also dedicated to sustainability. The company offers refill options for their products to cut down on plastic waste. Rahua also supports pro-planet organizations like The Pink Flamingo Project and is a carbon-neutral company. And of course, all Rahua products are cruelty-free, too. 
FIND IT HERE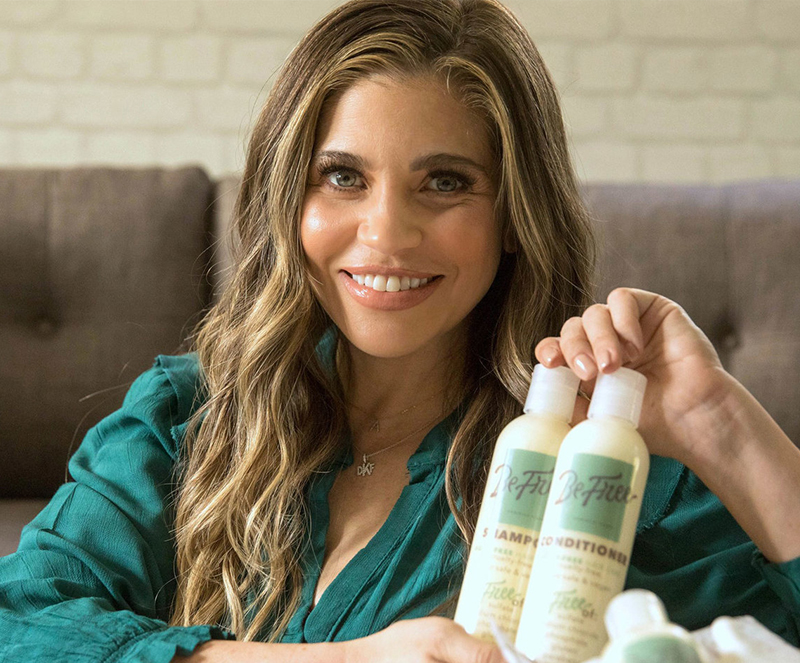 Be Free
10 Be Free by Danielle Fischer
Boy Meets World's Topanga was known for a lot of things, one being her iconic and luscious locks. Now, the actress has released her own clean beauty haircare line. Be Free by Danielle Fishel is Leaping Bunny-certified and free from fragrance, gluten, phthalates, parabens, and more. Be Free is also made in the US and supports the One Tribe organization which promotes rainforest conservation while fighting climate change. With Be Free, you can finally achieve the Topanga hair of your dreams without compromising your vegan values. 
FIND IT HERE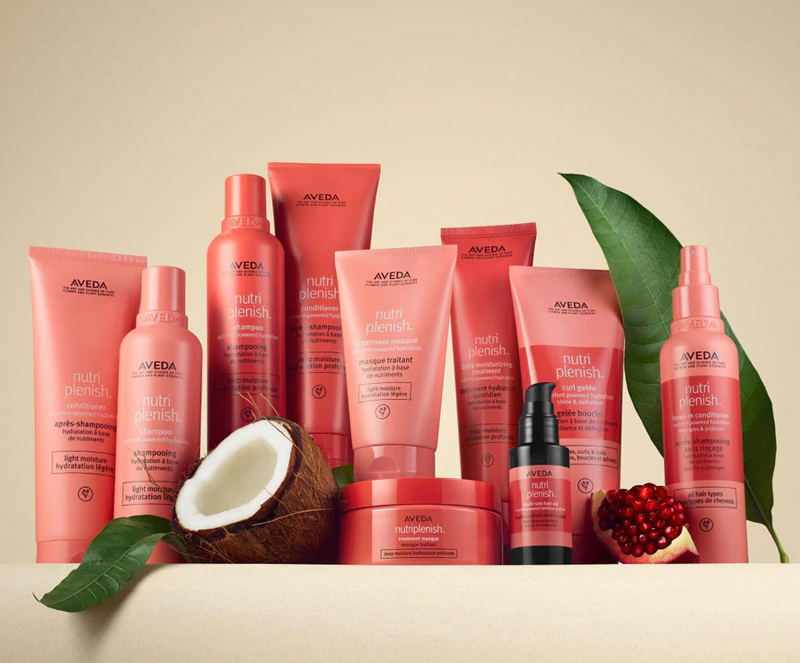 Aveda
11 Aveda
Aveda is a popular and accessible vegan haircare brand that you may already be familiar with. Entirely vegan now and forever, Aveda has been setting the standard since 1978. This company makes virtually every single product you could possibly need for your hair. It's also heavily engaged in corporate responsibility initiatives. Aveda supports Charity: Water, a non-profit organization that focuses on water conservation and bringing clean water to struggling communities worldwide. Most Aveda products use 100-percent post-consumer recycled materials, too. Carbon-neutral shipping helps offset CO2 emissions, making Aveda a standout company in all regards.
FIND IT HERE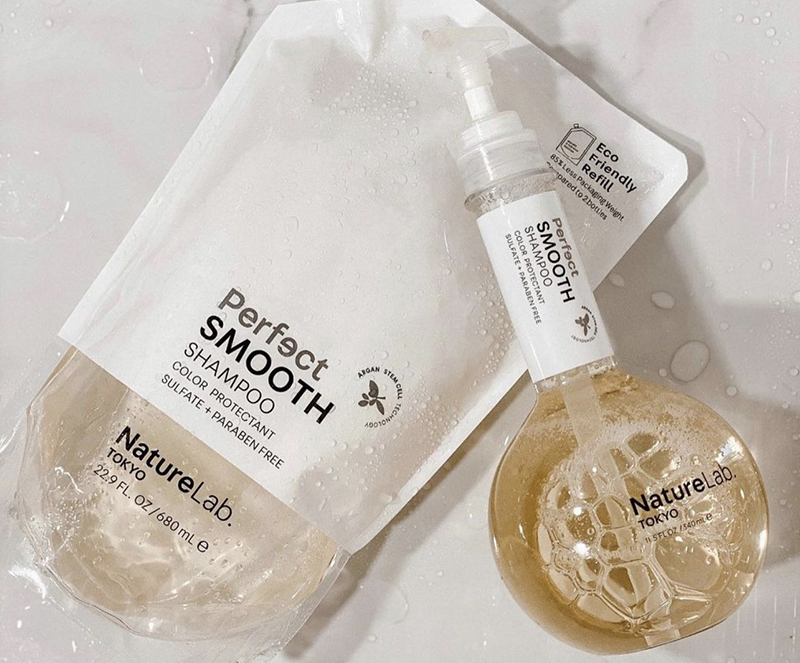 NatureLab Tokyo
12 NatureLab Tokyo
It's progress over perfection, which is why cruelty-free haircare brand NatureLab Tokyo makes the cut. This PETA-certified company has made going 100-percent vegan a primary mission by the end of 2022. Currently, most of its products are vegan, with only a handful of vegetarian options. The brand also offers refill packets of their shampoos and conditioners, eliminating a whopping 85 percent of plastic than two full-sized bottles. NatureLab Tokyo leaves parabens, phthalates, mineral oils, and gluten off the menu, making way for cleaner, healthier hair formulas.
FIND IT HERE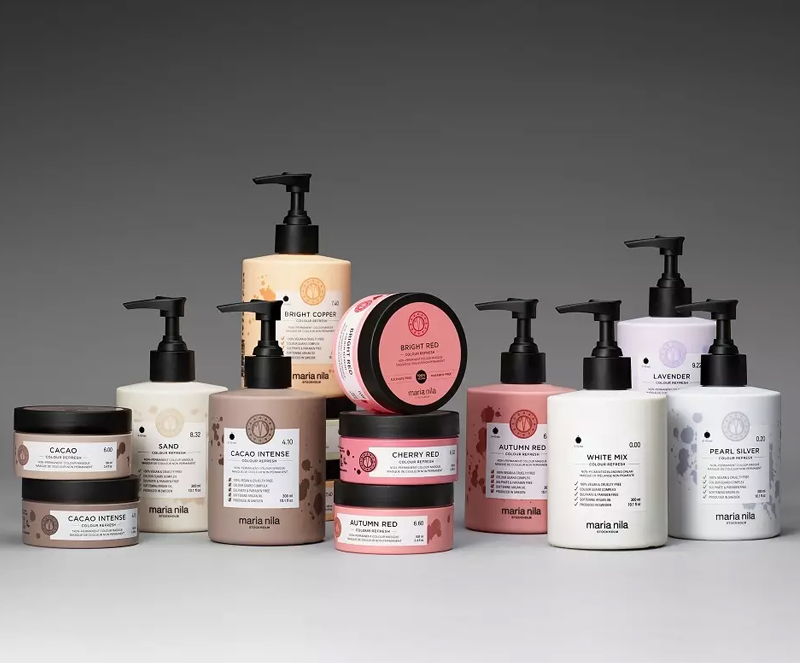 Maria Nila
13 Maria Nila 
Maria Nila is a Swedish-born haircare brand known internationally for its animal-friendly formulas. The company is certified by Leaping Bunny, PETA, and the Vegan Society, solidifying its place in the cruelty-free and vegan haircare community. Maria Nila also focuses efforts on combating deforestation by partnering with Zeromission to financially support third-world country farmers by replanting the under-utilized parts of their farms. Maria Nila carries a robust collection of salon-quality haircare products that are safe for color-treated hair.
FIND IT HERE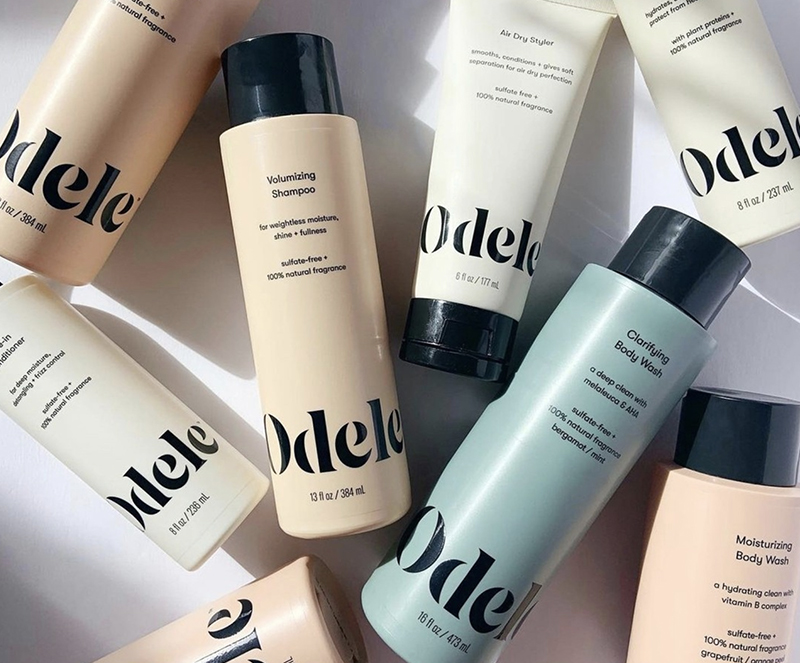 Odele
14 Odele 
Odele is a genderless cruelty-free beauty brand that formulates only vegan hair products. Abiding by the strict European Union standards, this brand bans more than 1,328-plus ingredients from its line, including known cancer-causing agents. Odele creates clean and approachable products using active ingredients that nourish hair and protect against damage while promoting hair health and human safety. Odele is also women-owned and operated, and all products are formulated and manufactured in the USA using exclusively wind-powered energy. Plus, you can easily find the vegan haircare brand at Target. 
FIND IT HERE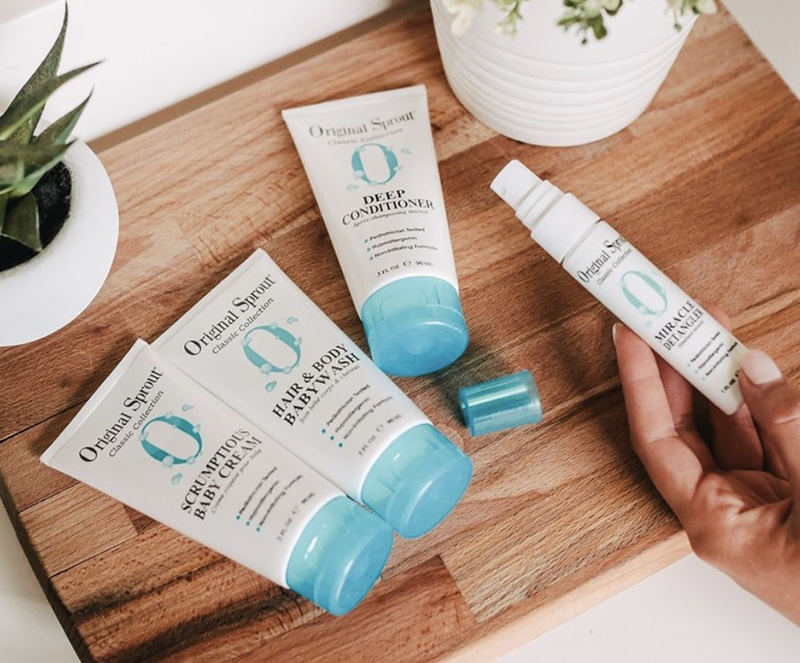 Original Sprout
15 Original Sprout
Original Sprout is a Vegan Society certified brand that first launched with a focus on developing safe haircare formulations for children. Now, the company has expanded its product range, providing products for the entire family. This Leaping Bunny and PETA-certified company is made in the US, and leaves ingredients like lavender and tea-tree oil out of its products, which have been linked to hormone disruption in children. Original Sprout rigorously tests all formulas prior to release to ensure the safety and efficacy of its products. Its entire line is also pediatrician and dermatologist tested.
FIND IT HERE
For more vegan beauty, read:
Why Nicole Kidman Just Invested in Vegan Haircare Brand Vegamour
10 Colorful, Vegan, and Cruelty-Free Makeup Products to Wear All Summer

How Scarlett Johansson Turned Her Beauty Routine Into a Vegan Skincare Line 
Happy birthday, VegNews! To celebrate, we're having a mega subscription sale—complete with incredible vegan prizes.
CHECK IT OUT
Happy birthday, VegNews! To celebrate, we're having a mega subscription sale—complete with incredible vegan prizes.
CHECK IT OUT