We're all familiar with makeup artist- and celebrity-owned beauty brands—after all, one seems to launch every few months. But the story with makeup artist Bobbi Brown isn't as simple as a high-profile talent venturing into entrepreneurship and ever-lasting success. The makeup mogul that put brown lipstick on the map in the 1990's began her namesake company—later acquired by Estée Lauder—in 1991 and stayed at the helm until 2016. As of 2020 she'd rode out the 25-year non-compete agreement and was free to begin her next venture: Jones Road Beauty.
What is Jones Road Beauty?
Bobbi Brown had one clear aim when she conceived Jones Road. "What I wanted was the makeup equivalent of a Swiss Army Knife: easy, cool, multi-purpose products that could be used to nail any look, whether it be no-makeup makeup or something with more drama," she says on the website.
She populated the Jones Road line with "both clean and high-performance" products." While "clean" doesn't have a legal definition, the Jones Road site describes its products as free from controversial ingredients, including phthalates, sulfates, petrolatum, and polyethylene glycol (PEGs). It also claims to follow "guidelines even more stringent than those of the E.U." All products are meant to work well for all skin types and be easy to master.
Jones Road offers makeup for the face, eyes, and lips as well as skincare, cosmetic tools, and apparel. Prices for beauty items range from $8 for a metal foundation spatula to $44 for a foundation, with most items falling between $20 and $40.
Shop Jones Road Beauty
How did I test Jones Road Beauty?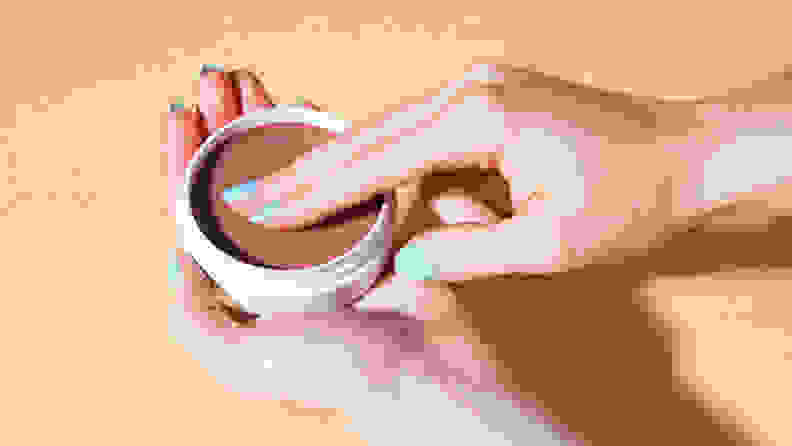 I focused on the brand's makeup offerings—because Bobbi Brown is a makeup artist and, well, TikTok keeps showing me the makeup items on my For You Page. The brand sent me a slew of its most popular products to test: What The Foundation, Miracle Balm, The Face Pencil, Shimmer Face Oil, Lip and Cheek Stick, Just A Sec Eyeshadow, The Lip Tint, and Cool Gloss.
I tested the products together to create a full face of makeup, supplementing with items I normally use but didn't receive from Jones Road, such as mascara and eyebrow gel. I also used the products separately with makeup products I already own to see how, if at all, that changed my feelings on them. For example, I applied the Lip and Cheek StickMiracle Balm over my favorite Charlotte Tilbury Beautiful Skin Foundation to see how it would layer, rather than only wearing it with the Jones Road foundation or on bare skin. After a few weeks of testing, I'm ready to share the deets, beginning with my favorite items.
1. Jones Road The Lip Tint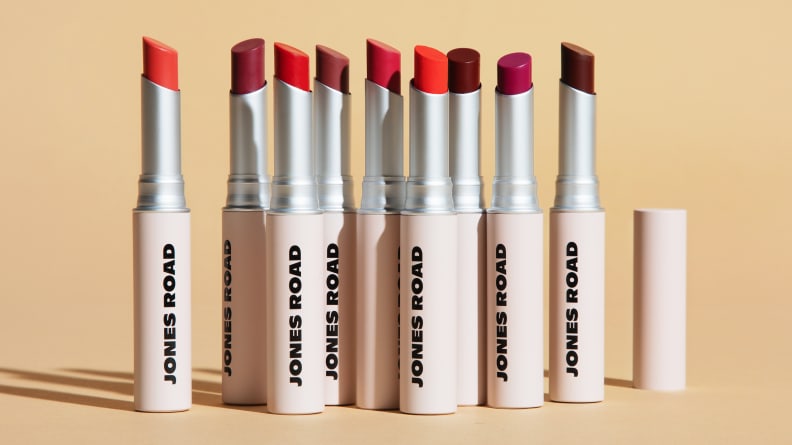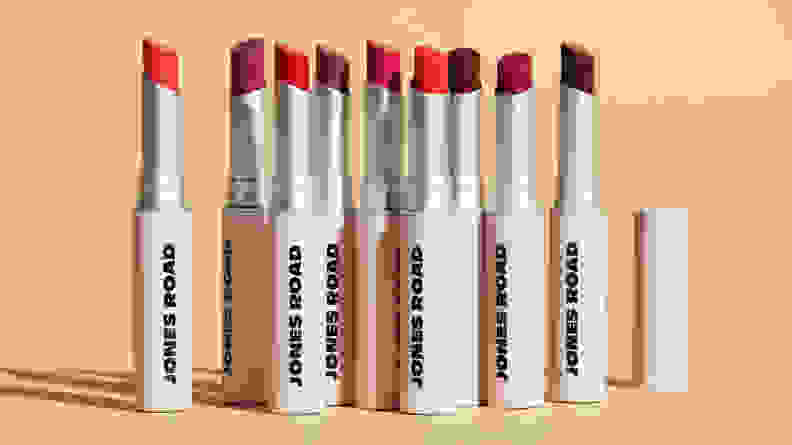 What it claims: The Lip Tint is "Bobbi's take on a traditional lipstick," which she defines as providing color while still being moisturizing. It can be applied as sheer or bold as you'd like depending on how much you layer on. The stick contains castor oil, vitamin E, and fatty acids that together claim to protect the skin barrier and stimulate the production of collagen, which may "reduce acne, hyperpigmentation, and fine lines." The slim twist-up tubes are available in nine shades ranging from a deep plum to a bright red. Swipe your color onto your lips—"no prep or mirror required."
What it's like to use it: It must be programmed into my DNA to love tinted lip balms because it's rare I meet one I don't like. The Lip Tints, of which I received all nine hues, are no exception. Even a lighter tone like "Just Peachy" (a bright coral) shows up bold on the lips, though you could blot it off or use a very light hand to make it look like a subtle stain. The formula is easy to swipe on and feels moisturizing like a balm and comfortable to wear for any length of time, thanks to its lack of tackiness or dryness. If I wasn't eating while wearing these, the colors could last a few hours before I needed to reapply. The idea is simple, but that's also what makes it so great: Who wouldn't enjoy the comfort of a lip balm and the color of a lipstick? I highly suggest picking out a color or two to give a go.
Get the The Lip Tint at Jones Road Beauty for $26
2. Jones Road Shimmer Face Oil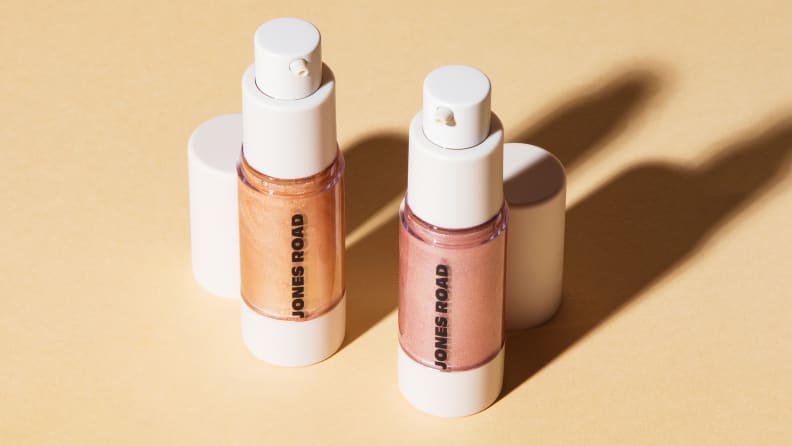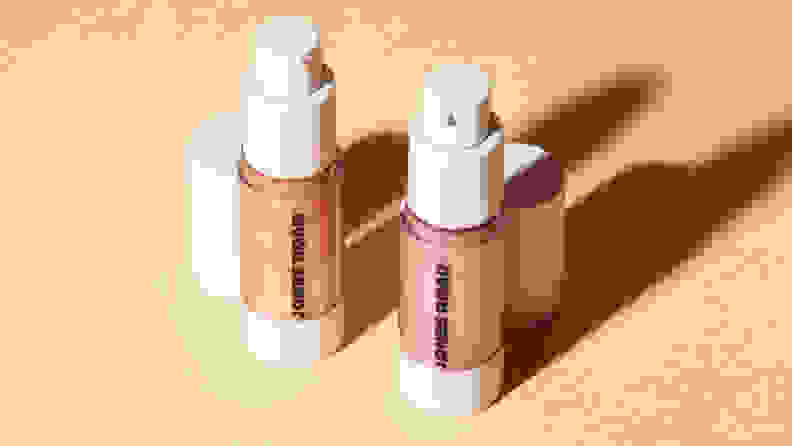 What it claims: This highlighter-esque product is supposed to offer a "subtle glow in a bottle." It contains a blend of nine oils that the brand claims make it a "makeup-skincare hybrid" that adds moisture to wherever you apply it on the face. Jones Road recommends applying the oil using your fingertips and blending it onto the skin using your fingers or a makeup brush. It's available in four shimmery shades: "Cool Rose" (medium pink), "Pink Opal" (light pink), "Midas" (gold), and "Bronze" (copper).
What it's like to use it: The formula feels thin yet viscous, and once applied, it's weightless on the skin and thins out to impart both color and pretty shimmer. I tried the lightest shades "Pink Opal" and "Midas," both of which appeared too dark for a highlighter on my very light skin tone. If my aim is to highlight the tops of my cheekbones or tip of my nose, I gravitate toward a light gold or champagne, and the formula for both of these is too pigmented to look any lighter on the skin than it does in the bottle—which is to say, it's too dark for me. But when applied more conservatively over just the tops of my cheekbones, the oil blended well into my blush and created a pretty sheen in this area. An even better use for me was to mix the oil into my foundation to add more subtle luminosity to the skin. It's easy to work with and one of the more versatile products I tried from the line.
Get the Shimmer Face Oil at Jones Road Beauty for $34
3. Jones Road Lip and Cheek Stick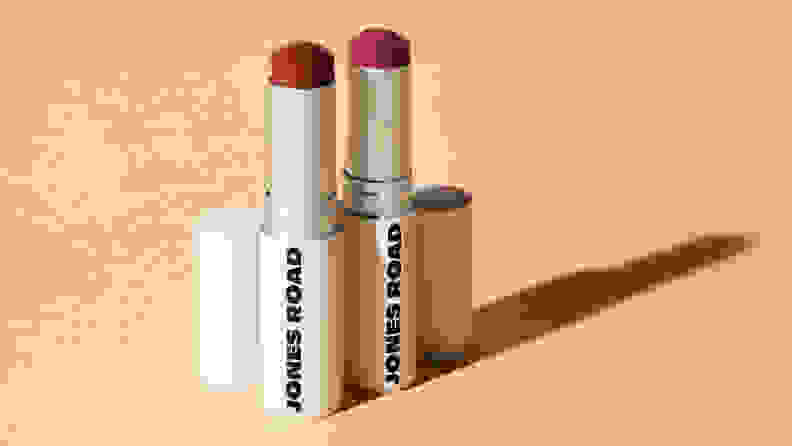 What it claims: This dual-purpose cream claims to be "blendable and buildable" on both the lips and cheeks for a pop of color. It can be applied directly onto the skin or overtop your foundation or tinted moisturizer and blended out using your fingers or a brush. It comes in eight shades ranging from a bright pink to a muted brown. Like The Lip Tint, this uses castor oil as a moisturizing ingredient.
What it's like to use it: The brand sent me the shades "Chocolate Mocha" (brown) and "Tawny Nude" (brick red). The darker tones worked fine on my light skin tone, but I think I would have liked these more if I'd gotten to try one of the brighter colors, like "Bright Pink" or "Bright Coral." That aside, these are easy to apply to both the cheeks and lips, as the twist-up cylinder is slim to allow you precise application, and the formula is creamy and smooth to glide on with ease. The finish looks satin, not matte or shiny, and layers well with other makeup items. If you're a fan of cream blush or enjoy a multi-purpose cosmetic product to simplify your routine, these are a great option.
Get the Lip and Cheek Stick at Jones Road Beauty for $34
4. Jones Road Cool Gloss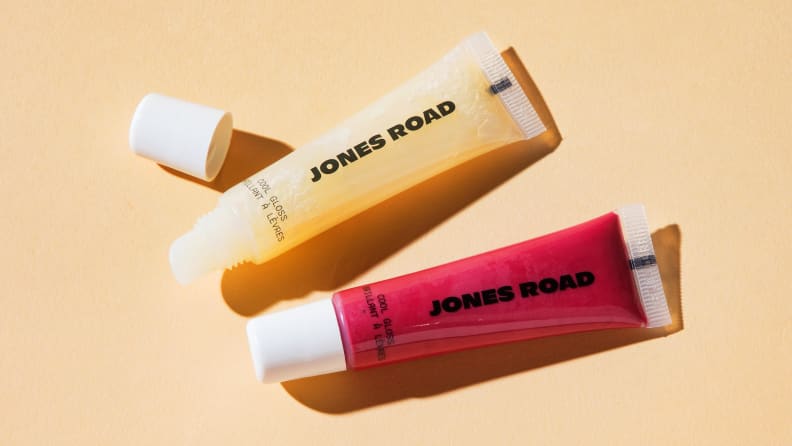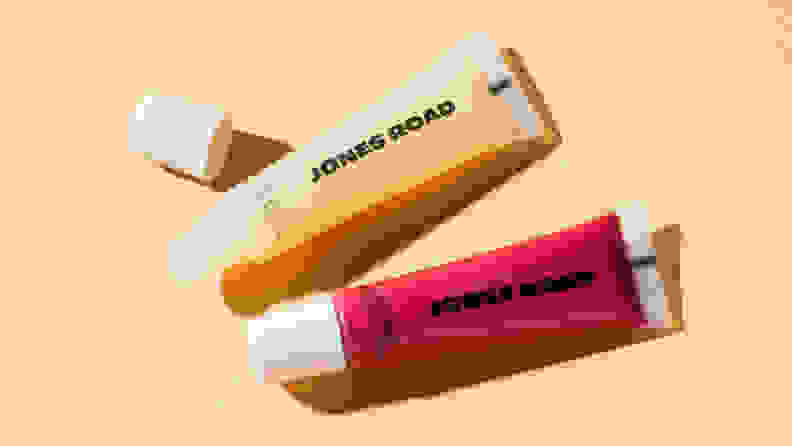 What it claims: The widest range of lip colors is available in this shiny, ointment-like formula known as Cool Gloss. You can find it in clear or in 10 colors ranging from a light gold-nude to a deep berry with some tones having added gold shimmer flecks. It claims to moisturize with shea butter without feeling tacky or or heavy, and it purports to plump the lips using peppermint oil.
What it's like to use it: Cool Gloss reminds me of elevated, adult versions of the lip glosses I got as a kid from places like Bath and Body Works because of the transparent squeeze-tube packaging. I tried "Original" (clear) and "Rosy" (deep pink) and enjoyed both equally. If I just wanted to moisturize my lips, I'd go with the former, and when I wanted a wash of color to finish off my makeup look, I reached for the latter. Both have the minty smell and tingly feel from peppermint oil, and the pink shade shows up as pigmented as a lipstick. I'd rather reach for The Lip Tint that comes in a slim twist-up tube for easy access, but these feel good on the lips and offer a pretty sheen.
Get the Cool Gloss at Jones Road Beauty for $22
5. Jones Road Miracle Balm
What it claims: One of the more intriguing products in the line, Miracle Balm claims to be "the secret of no-makeup makeup" looks. It contains jojoba seed oil and can be worn alone or under makeup for a moisturizing, primer-like base or on top of makeup to impart a subtle color and sheen. The brand suggests breaking the surface of the wax-like balm to collect a dab of it with your finger, allowing it to warm up on your skin, and using fingers, a brush, or a sponge to apply it "anywhere you want to tint or glow," including the face, eyes, or lips. The product's versatility is also evident in its eight shades, which range from clear to a shimmery bronze to a rosy pink.
What it's like to use it: I'm not sure what to make of Miracle Balm, which is why it falls toward the middle of the pack among the items I tested. I tried "Au Natural" (clear, though it looks pink in the container), "Dusty Rose" (a shimmery muted pink), "Magic Hour" (a shimmery light brown), "Bronze" (a shimmery reddish brown). Clear shade aside, each color appears very sheer when spread onto the skin, though some color tone is still visible, especially when applied in a few layers. I tried using both of the brown tones as bronzers by applying them under my cheekbones, at my temples, and along my jawline, and while both could work, I'd prefer to use a cream bronzer rather than this tinted balm, as ones like the E.L.F. Putty Bronzers add more pigmentation with a matte finish.
I feel similarly ambivalent about "Dusty Rose" as a blush shade, though I prefer it as a blush more than the brown hues as bronzers. When built up on the skin, this shimmery, dewy-looking blush gives a radiant, pink finish to my cheeks, albeit it feels tackier than I'd prefer because of the balm consistency.
Lastly, I tried layering Miracle Balm under my makeup rather than on top of it. I'd seen Bobbi Brown use "Magic Hour" all over her face in a sheer layer to add a dewy, luminous-looking finish sans or underneath foundation. When I tried this, the balm felt uncomfortably rough against my skin as I attempted to blend it out with my fingers.
I can see how Miracle Balm could be a versatile item for the face and even the hair—Bobbi Brown also recommends using it to tame flyaways—but I don't see myself reaching for this.
Get the Miracle Balm at Jones Road Beauty for $38
6. Jones Road The Face Pencil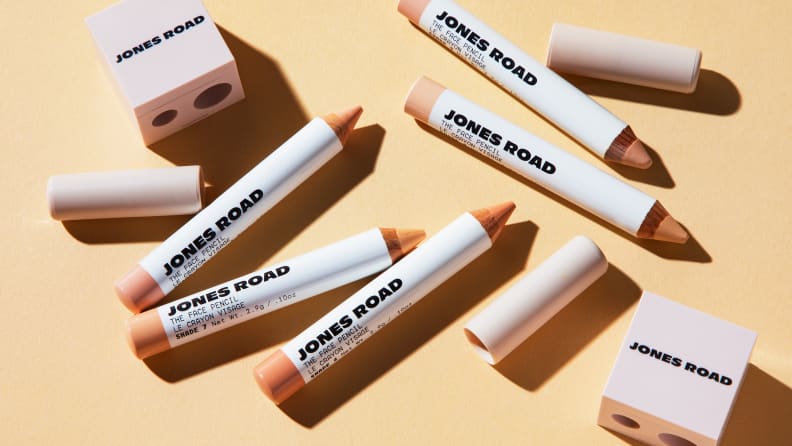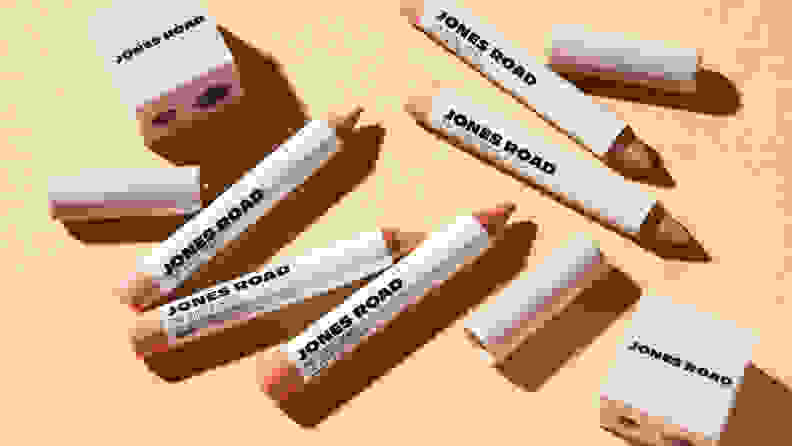 What it claims: Housed in a fat wooden pencil, this concealer-like stick claims to cover redness, dark spots, discoloration, and dark circles while appearing "virtually undetectable." You can apply it anywhere you want some coverage, all over your face as a foundation, or in conjunction with your moisturizer or foundation. It's available in 25 shades ranging from very light with neutral undertones to deep with "espresso undertones." Jones Road offers a sharpener, sold separately, for The Face Pencil.
What it's like to use it: I used the "Shade 2," described as "fair with cool pink undertones," as a concealer underneath my eyes, but it felt too dry for my already-dry skin there. To be fair, most concealers look dry and patchy under my eyes—still seeking a solution!—so I don't totally fault Jones Road for The Face Pencil failing me here, but I've found other cream and liquid formulas that at least look better than this and cover just as much, if not more. If you have dry under-eyes like I do, I highly recommend you try the Glossier Stretch Concealer instead.
Get the The Face Pencil at Jones Road Beauty for $25
7. Jones Road Just A Sec eyeshadow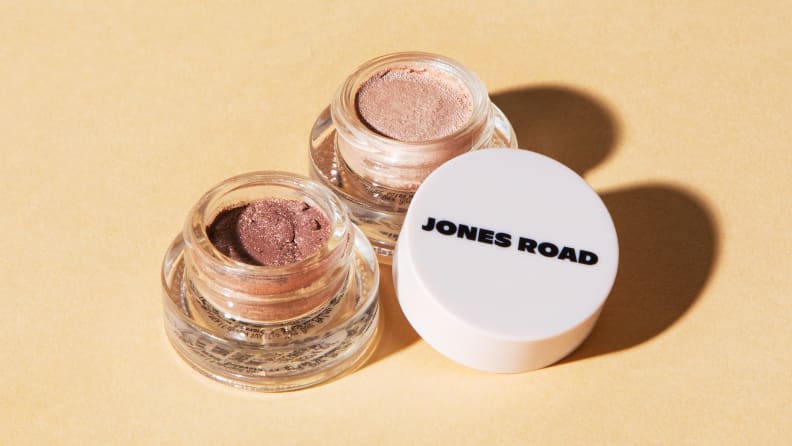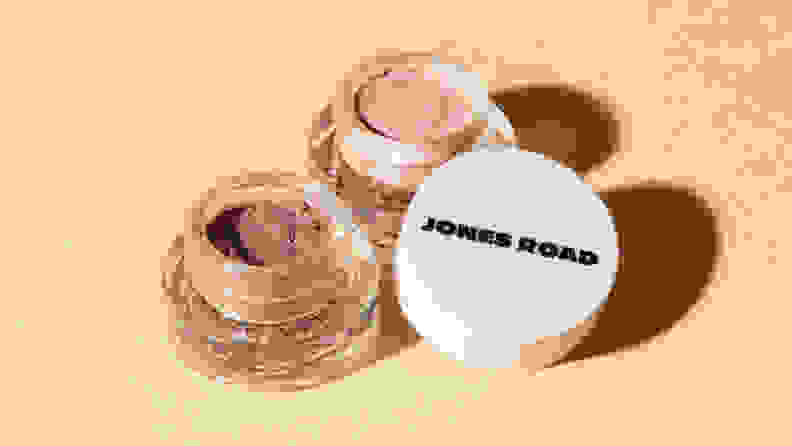 What it claims: Just A Sec is a single cream-powder eyeshadow that aims to be "a weightless, cushiony texture" that you can dip into for a "crease-proof wash of luminous color" anywhere on the eyes. It's available in six shimmer shades: "Golden Peach" (peach), "Pewter" (cool brown), "Bronze" (warm brown), "Icy Pink" (light pink), "Linen" (cream), and "Topaz" (champagne).
What it's like to use it: Whether I applied these shadows with my fingers or a brush, I just couldn't make them work for me. Both "Linen" and "Pewter" felt cakey on my fingertips and looked patchy on the eyelids no matter my application tool. I'm disappointed, as I love using a single, shimmering eyeshadow all over my eyelids for a simple eye look. I thought these may fulfill that purpose, but they're too difficult to work with and produce uneven results.
Get the Just A Sec at Jones Road Beauty for $26
8. Jones Road What The Foundation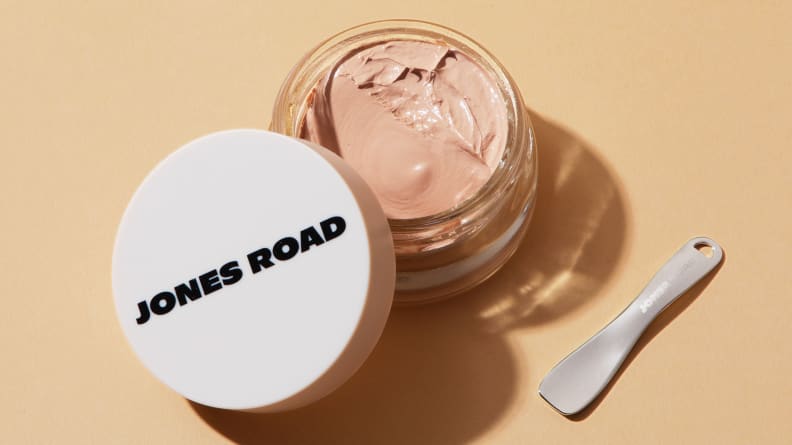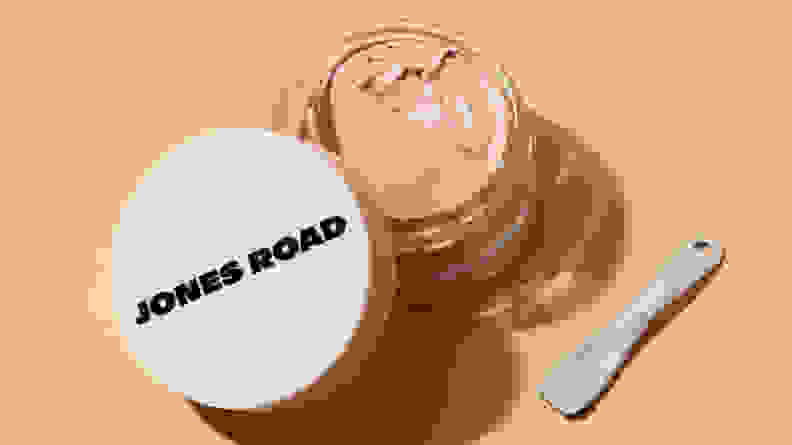 What it claims: What The Foundation is arguably the most interesting launch from Jones Road, and it caused quite a stir on TikTok because of its oil-based, sheer-coverage formula. Described as "a tinted moisture balm meets traditional foundation," WTF contains moisturizing ingredients like jojoba seed oil and hyaluronic acid. It claims to provide light to medium coverage in a lightweight formula and it's available in 12 shades ranging from "Porcelain" (very light) to "Espresso" (deep). It comes in a tub, and the instructions state—and social media posts prove—that it's normal to see separation between the pigment and the oil in the formula upon opening. To mix it back together, you can purchase The Spatula for $7, which the brand also sent me, or another similarly flat metal or plastic tool you already own.
What it's like to use it: I saw videos of this foundation for weeks on social media before I got my hands on the shade "Porcelain." Despite seeing many negative reviews complaining about greasy feel and lack of coverage, I was hopeful because my skin is normal-to-dry and I enjoy foundations that blur rather than mask my skin. When I rubbed it into the back of my hand after first opening it, I thought it was for sure going to be a winner for me, but my testing experience told another story. The only way I could get an even layer was by massaging it into my skin like any normal moisturizer, but then I sacrificed any coverage. It also left behind a tacky finish that felt uncomfortable to me—almost like I was wearing a thick sunscreen. When I applied it in thin layers using a brush or sponge, the tool lifted up the foundation as I tried to spread it out, leaving large patches of my skin bare.
The discomfort I felt with the texture is something I could overlook if I loved the appearance, but the only thing this did for my skin was provide a soft glow—probably thanks to the inclusion of oil—when it was applied in a sheer layer. Otherwise, it was unwearable. I thought I may be the target audience for this product with my drier skin type and affinity for low-maintenance, low-coverage skin tints, but it failed on all counts. The difficult application also leads me to feel that this product doesn't support the brand's mission of creating "easy to master" products. Honestly, I'm confused about how anyone can make this work for their skin.
Get the What The Foundation at Jones Road Beauty for $44
What should you try from Jones Road Beauty?
There are a couple stars, but nothing I'd rush out to buy
I'll be honest: Jones Road left much for me to desire. In general I gravitate toward simplistic, good quality makeup items that can streamline my routine. Unfortunately, only half of the items I tried from this line I'd consider keeping in my vanity: The Lip Tint, Shimmer Face Oil, Lip and Cheek Stick, and the Cool Gloss. And even then, I'm not sure I'd spend the money to replace them once my test samples ran out. I wouldn't say you need to stay away from the brand, but I'd be choosy about what you ante up the cash for. All that said, there are still a number of products I haven't tried from the brand, and I'm all about second chances—stay tuned.
Shop Jones Road Beauty
The product experts at Reviewed have all your shopping needs covered. Follow Reviewed on Facebook, Twitter, Instagram, TikTok or Flipboard for the latest deals, product reviews, and more.
Prices were accurate at the time this article was published but may change over time.